I torsdagens udgave af Effektivt Landbrug havde de valgt at sætte fokus på Hulemænd i habitter under overskriften Tjek manualen til maskinen mellem ørerne (link til artikel sidst i dette indlæg).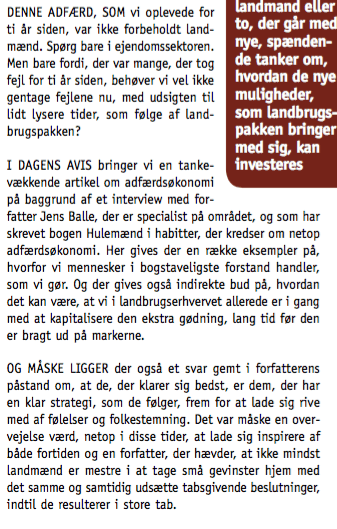 Netop landmænd lever i en verden, hvor de ofte skal tage stilling. Stort set ALT de rører ved kan svinge kraftigt i pris. Det gælder jorden, afgrøderne, foderet, svineprisen, mælkeprisen, renten osv. Desuden er det ofte meget store tal – sådan et landbrug har nemt en balance på 50 mio.
Formentlig derfor får bogen næsten to sider og endda omtale i lederen, som du kan se her til højre.
Det er vigtigt at holde hovedet koldt og tage de beslutninger uden at lade følelser og de mange kendte bias spille ind. Men det kan være svært.
Al forretning handler om to grundregler:
Køb billigt
Sælg dyrt
Så simpelt er det – og det gælder i alle typer af forretninger også landbrug. Der er ikke nogen grund til at gøre det mere vanskeligt.
Desværre er det ganske vanskeligt at leve op til. For ofte er psyken modsat. Vi har ikke lyst til at købe når det er billigt fordi vi tror det vil blive billigere. Og omvendt har vi ikke lyst til at sælge når det er dyrt for der tror vi det bliver dyrere.
Det illustreres meget godt i denne tegning fra Carl Richards, Behavior Gap:
Det er et af emnerne de har valgt at fokusere på i omtalen af bogen Hulemænd i habitter. Du kan læse artiklen ved at klikke på billedet: