OK, jeg indrømmer det, der er måske lidt click-bait i den overskrift. Men det er faktisk konklusionen af en undersøgelse fra USA. Det er nemlig ikke os mænds egen skyld, hvis vi tager lidt på. Det kan skyldes kvinderne i vores liv!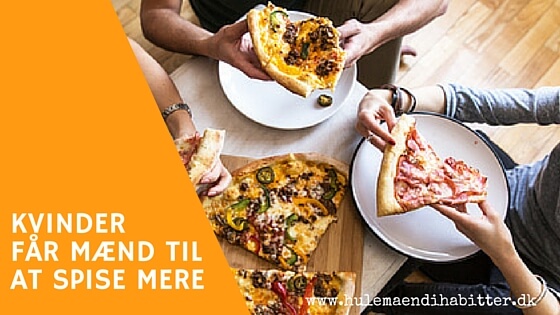 Det er selvfølgelig de fantastiske mennesker på Cornell University med Brian Wansink i spidsen, der igen har været i gang med et spændende forsøg. De har tidligere vist, at vi spiser ikke til vi er mætte, men til der ikke er mere og, at vi ikke kan smage forskel på vin. Hvis du ikke allerede har læst Brian Wansinks Mindless Eating, vil jeg på det varmeste anbefale den.
LÆS OGSÅ: Større tallerkener giver større madspild
De har tidligere konstateret, at vi generelt spiser mere, når vi er sammen med andre. Denne gang ville de i stedet kigge på, om det betød noget om, man spiste med det modsatte køn. Det gør det – for mænd.
Overeating might function as a signal that a person is healthy enough that they can engage in unhealthful behavior (and still end up okay)
De overvågede en all-you-can-eat pizzarestaurant og målte, hvor meget de enkelte gæster spiste. Og mænd, der spiser med kvinder spiser en hel del mere. Faktisk 93 % mere pizza, viste det sig. Men de spiste også 86 % mere salat.
Derimod får mænd ikke kvinder til, at spise mere. Men i denne undersøgelse følte de det som om de havde spist mere og havde spist hurtigere.
Forskerne gætter på, at forskellen kan skyldes, at vi mænd forsøger, at imponere kvinder ved, at spise meget.
Du kan finde undersøgelsen her.