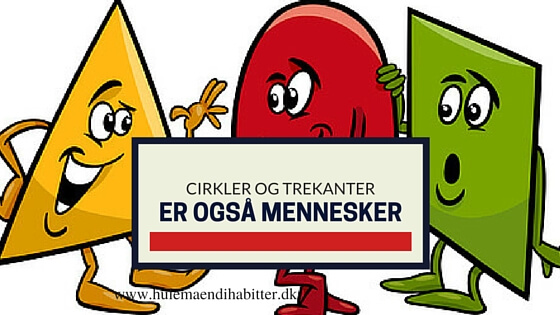 Vi er meget socialt anlagte, og vi vil også prøve, at se sociale relationer og tilsætte menneskelige egenskaber, hvor de ikke hører hjemme. Jeg har tidligre skrevet om vore behov for sociale relationer og henvist til et speciale om dopamin, oxytocin og sociale medier. Her kan du læse om et andet eksempel, på vores tiltrækning mod sociale relationer.
Det er naturligvis vanskeligt at skrive "BREAKING" når man skriver om en rapport fra 1944. Det er nemlig det jeg har tænkt mig at gøre i dag, for at kigge lidt mere på det store fokus vi har på sociale relationer. Jeg har netop deltaget i et seminar hos Shortlist, hvor Sune Worm Mortensen fra Nykredit kom med et meget inspirerende indlæg om talenter. Han viste blandt andet denne film fra 1944.
Prøv lige at se filmen, inden du læser videre nedenfor.
Hvad så du her? Hvad fortæller filmen?
Hvilken slags person er den store trekant?
Hvilken slags person er den lille trekant?
Hvilken slags person er den cirklen?
Hvorfor skændes trekanterne?
Når folk bliver spurgt om, hvad de så, er det meget få, der svarer 'to trekanter, en cirkel og en firkant med en åbning'. Lang de fleste – også uden de fire uddybende spørgsmål ovenfor – fortæller en historie og tillægger figurerne menneskelige (eller dyre) egenskaber.
Filmen er udviklet i 1944 som et led i Fritz Heider og Marianne Simmels arbejde. Sammen udgav de An experimental study of apparent behavior, hvor de kunne påvise, at lang de fleste satte menneskelige værdier og sociale relationer på figurerne i filmen. Faktisk var det kun to af deres testpersoner, der ikke tillagde figurerne disse værdier.
Ikke for at tærske langhalm på rationalitet, men det er jo ikke videre rationelt. Hvis vi kan tillægge to trekanter og en cirkel menneskelige værdier, mon vi så ikke også i andre situationer, agerer irrationelt?
Du kan læse mere om undersøgelsen her.