Fremlæggelsen af regeringens skatteudspil har kastet lys på et klassisk dilemma: Bare de andre ikke får mere end mig.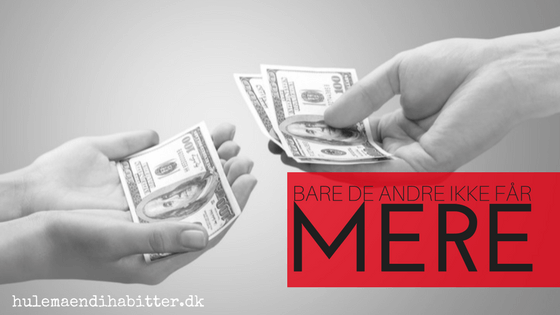 I regeringens første beregninger viste de en procentuel større fordel for skatteborgere med mindre indtægter. Desværre viste denne ikke helt at holde stik og så brød fanden løs.
For selvom alle fik mere ud af det i absolutte kroner, kan vi ikke lide når andre får mere ud af noget end vi selv gør.
Måske ligger dette meget dybt i os – man har i hvert fald også fundet lignende reaktioner hos aber. I dette forsøg fik to aber forskellig belønning for den samme opgave. I første omgang accepterede den første abe et stykke agurk, men da aben ved siden af fik en vindrue, var det ikke længere ok. Se med her:
I et forsøg med mennesker foretaget af Gad Saad, kunne test-personerne vælge mellem to mulige lønstigninger:
A. En stigning på 500 per måned til dig og 500 til din kollega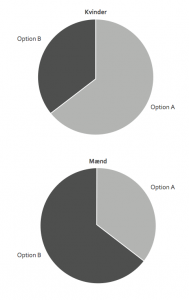 B. En stigning på 600 per måned til dig og en stigning på 800 til din kollega
Var vi rationelle ville vi naturligvis vælge B, da det giver os selv flest kroner i hånden. Men udsigten til at kollegaen fik mere, fik alligevel mange til at vælge A.
Som du kan se i figuren var der stor forskel på hvordan mænd og kvinder valgte. De fleste kvinder foretrak den lavere men ens lønstigning mens det forholdt sig omvendt for mændene.
Så det relative spiller i høj grad ind.
Du kan læse mere om dette emne i kapitel 7 i Hulemænd i habitter